CHECK UP, CLEANING, AND CONSULTATION
Phuket Dental Signature Dental Clinic in Patong beach, Phuket Thailand
CHECK UP, CLEANING, AND CONSULTATION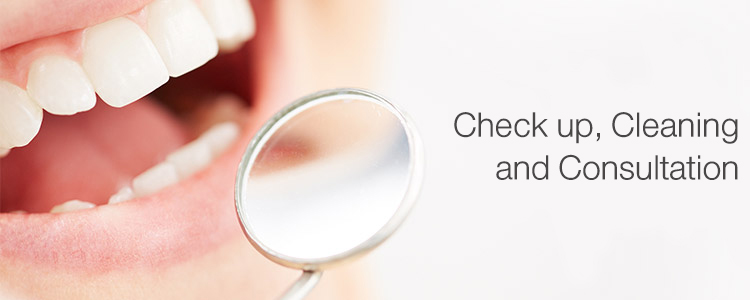 Dental Diagnosis Policies and Standards
At our dental clinic in Phuket, our clinic is dedicated dental center with simple objectives:
Professionalism in code of conduct
International standards
Quality care of patients with compassion
Our policies and control checks are set to provide transparency. We believe in taking the time to educate each of patient on their options and setting realistic targets. Our dental specialists and dentists are a selected group of qualified and skilled individuals chosen to treat our patients in their specific field of expertise.
Dental Diagnosis Technologies
To aid our dentists and dental specialists in dental diagnosis and providing good quality dental care, modern equipments and techniques are utilized.
Our dental clinic has our own panoramic x-ray machines within its dental building are used to facilitate systemic diagnoses and treatment plans. Our dental clinic has over 8 treatment rooms, each equipped with modern dental unit designed for patient comfort.
Within each specific stream of dentistry, our dental specialists are also aided and guided by specialized instruments with the patient safety functions. For each specific field of dentistry, view more on our dental technologies offered at our dental center.
 
Immediate Accurate Dental Images For Dignoses
The direct deposit CSI semiconductor flat panel produces accurate, distortion-free images for 3D reconstruction. Unlike image intensifier sensors that use old vacuum tube technology and multi-step focusing, flat panels use single step image readouts with no geometric distortion, no loss of sensitivity, and therefore no need for frequent calibration yet providing accurate imaging.
Captured x-ray images are immediately sent to treatment rooms without any wait time for dentists diagnoses and treatment planning with patient. The digital images discards the need for conventional chemical base film processing.
Planmeca ProMax 3D concept is expressly designed to comply with the needs of modern surgical dentistry.  The 3D CT Scan unit complies with a multitude of diagnostic requirements including endodontics, periodontics, orthodontics, implantology, dental and maxillofacial surgery, and TMJ analysis.  With all the Planmeca ProMax 3D models CT machine, study volume sizes are selectable to meet diagnostic needs without excess radiation outside the area of interest.
Tooth Scaling and Tooth Polishing Cases
Air polishing is a procedure which uses air and water pressure to deliver a controlled stream of specially processed sodium bicarbonate or glycine powders through the handpiece nozzle. This pressurized jet of air, water and powder removes surface stains, plaque and other soft deposits such as food particles trapped in between the teeth.
Ir-scaling by Air-Flow is a procedure to remove calculus (tartar), soft deposits (plaque) and stains from teeth done either supra or subgingivally to remove agents that can cause inflammatio such as plaque and calculus, helping the tooth's supporting tissues to be free of disease. Plaque, a mixture of bacteria, minerals and food leftovers, irritates the gums, or gingiva, and causes inflammation over time. Plaque soon hardens into calculus, which no longer comes off by brushing or flossing